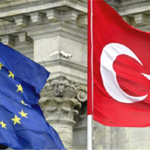 As the second lecture in the series "EUROPEAS: EUCE Seminars in European History, Culture and Society", EUCE York is pleased to present Prof. Sakis Gekas (York History) and "Global History, Regional Integration and the Politics of Exclusion in the case of Turkey's accession to the EU" on Wednesday, November 17th from 12:30 to 2:00 pm in Room 626 York Research Tower (building #95 on the map found here).
Light refreshments will be served.
This lecture is open to all, but attendees are asked to RSVP to euce@yorku.ca.